Some of the best toys that parents can give kids are tricycles. This is because trikes are able to provide a child with a lot of good fun, but more importantly gives them a chance to indulge in playtime, while discovering everything around their environment and learning new things as well. Additionally, kids' trikes give children a chance to get the exercise they need to stay healthy, improve on their motor skills while they are growing up, and help build up self-confidence, even at a very young age. Trikes are not only for older kids however. Fisher Price, a very popular brand for kids, has introduced the Kawasaki Tough Trike, specifically for kids from 1-6 years of age. This ride-on toy was been especially designed to last for years, which is why they call it the tough trike.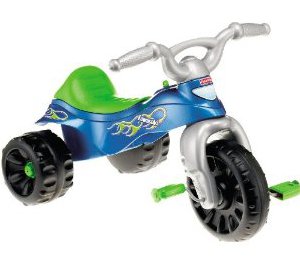 Fisher Price understands the need of parents to know for sure that they are getting the best trike for their little ones. The Kawasaki Tough Trike has all of those important features that make it ideal as a child's very first trike. Because of its toughness, parents can expect that the trike is indeed sturdy and manufactured from durable material that is able to withstand long hours of riding, as rough as it may get. It has a style that is uniquely Kawasaki too, a popular brand of bikes that earned its named because of its excellent qualities. Is the Kawasaki Tough Trike kid-friendly? It certainly is because of all of those special qualities that young ones can take full advantage of. The trike has a wide wheel base that says a lot for its stability. Its foot pedals are big as well, allowing easy pedaling for little feet. The handlebars of this trike are easy to grip so that kids can easily hold on to them while riding around, another great safety measure. Aside from all of these wonderful features, the seat of the trike is very comfortable and children can enjoy a smooth ride all the way. Underneath the seat is a storage compartment where little riders are able to keep their secret stuff when they go riding. Its durable tires have rugged treads, ready to take off-road rides with the best performance.
The Kawasaki Tough Trike is one of those great Fisher Price toys that every child would want to own, and every parent will be very happy to give.