Age has no limit when it comes to the thrill of hearing a siren squealing and seeing a fire truck race by! Children from an early age view those firefighters as heroes and imagine themselves as the ones hastening to help in the emergency. Now, thanks to InStep, children can have their very own miniature fire truck to make their heroic rescues even more realistic!
Similar in design to the pedal cars of the 1950's, this InStep Fire Truck Pedal Car will bring back memories to parents and grandparents as it plows new furrows of joy in the minds of their children.
The Fire Truck is built with several features that assure its durability. It contains solid steel construction and a strong, rod-driven rear wheel pedal system. The steering wheel is chrome plated and really works, and the removable wooden ladders (held by chrome mounts) add to its authenticity. The hood bell rings when the driver pulls a string attached to the steering wheel.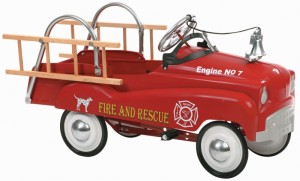 The fire truck is manufactured by InStep, a leading name in safe and durable children's toys and accessories. InStep is a subsidiary of Dorel, a $2 billion company with forty-six hundred employees, facilities in seventeen countries, and sales worldwide. The company also manufactures such things as jogging strollers and bicycle trailers. Schwinn, for decades a household name in bicycle manufacturing, is also a subsidiary of Dorel. Their products are all built of the finest quality materials and are sure to last for years.
The InStep Fire Truck also includes a small storage area behind the seat and rubber tires with chrome hubcaps. It is recommended for children ages three and up with a 70-pound weight limit. The fire truck features an adjustable pedal drive so that it will continue to fit children as they grow. Some assembly is required but, from box to finish, it is a snap with the easy directions and basic tools.
The InStep Fire Truck Pedal Car is purchased by parents who want a durable, safe toy for their youngsters as well as by grandparents who buy it so the grandkids will coax their parents to come for a visit. Others just want one as a collector's item or for the nostalgia of remembering their own pedal car when they were growing up. Young and old alike choose the InStep Fire Truck Pedal Car as a great investment.
Click Here for a Great Special on InStep Fire Truck Pedal Car